Camel Caravan Tours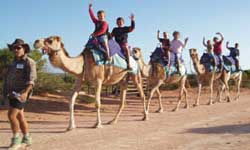 Riding on Camels will take you back to ancient times. To the era when salesmen and knights followed the Nabatean spice routes to their next post. Times when your wellbeing and survival depended on the wellbeing of your mount. In the desert of Wadi Rum the Bedouin people still live as they have been doing for centuries. They still wander through the desert looking for the best places to herd their sheep and goats, carrying their black tents with them wherever they go. We invite you to come along with us on a journey back in time. Apart from a ten days camel-ride in Wadi Rum, Hummaima, Wadi Araba and Beer Hamad, you will also visit the rose-red city of Petra and other highlights of the Jordanian culture and history.
Itinerary:
1st day: Airport/Transfer to Wadi Rum
.
Meets and assist at Alia Airport, and then we will transfer you to south of Jordan: Wadi Rum: You will explore Wadi Rum by Camels Ride, escorted by a Bedouin guide. We will show you Lawrence of Arabia's house and the inscriptions made by Thamudics and Nabateans centuries ago. And you may climb one of the natural rock bridges. In the middle of the desert we are going to camp and stay overnight at Bedouin tents.

2nd day: Umm Sabata/Seven Pillars of Wisdom/Al-Kharaza.
we going to start from the famous place in the protected area ( Umm Sabata) which is called Moon Valley, The trail will offer an endless variety of landscapes, the seven pillars of wisdom, described so vividly by Lawrence of Arabia. Al-Kharaza where uniquely shaped massive mountains rise out of the rose-red desert sand. In the evening a traditional Bedouin dinner will be prepared for you at a campfire. The guide will show some of the most beautiful spots in Wadi Rum and the inscriptions written by the Thamudic and Nabatean people a long, long time ago. And we overnight near Al-Kharaza Rock Bridge at Bedouin tents.

3rd day: Al-Kharaza/Qwaira/Old Humaima/New Humaima.
Early in the morning we will ride our camels to continue to first Bedouin village on our route, we pass the Bedouin new houses (Al-Qwaira Village) and we continue to Old Humaima.

4th day: New Humaima/Wadi El-Dhba'a/Beer Hamad/Dlagha/Petra.
Will ride in the morning to Humaima Village, and travel via El-Dhba'a canyon, we will pass by Bedouin well, and visit the famous Bedouin tribe, and we will have tea at their tent, and continue to Dlagha, the first village in Petra region, from there we will continue by our Jeep Safri to Petra, check in at Petra Diamond Hotel, overnight.
5th day: Full day Petra.
In the morning a local guide will escort you into Petra and show you the highlights of the Nabatean city. You will enter the city through the Siq, the narrow gorge and be rewarded with the most astonishing and dramatic monument in Jordan: the Treasury. You will visit the theatre, the tombs and façades and the colonnaded street. Evening back to Petra, check in at Petra Diamond Hotel (3*), dinner and overnight.

6th day: Petra/Bayda/Ras Namala.
The natural fountains and white sands of Wadi Araba. From the black basalt rocks near Ras Namalah to the prehistoric site of Little Petra. Nowadays many of the sites you will visit are sparsely inhabited by the local Bedouin tribes. But in the early days many of them were flourishing. The tour will show you some of the highlights of these cultures ancient and gone. And of course we will also show you some of the highlights of the Jordanian history. We will camp at the top of black mountains and over view of Araba Desert, where you can see 1200M under see level while you are staying at 1450M up see level. We will have our Bedouin tents for our stay overnight.
7th day: Ras Namala/by Jeep to Qa'a Namala/Wadi Ghwair.
From top of Namala Area we will transfer you via one the most beautiful off-roads in Jordan it is an old Nabatean trade route, amazing views, volcanic granite stone and lime stone, Zigzag road overlooks to Wadi Araba sand dunes, and travelling down to Wadi Araba Desert, and then keep driving in the desert by our Jeep Safari to Ghweir Canyon which has water falls, and Edomite water system, there will have our Campsite for our overnight.

8th day: Wadi Ghwair/Old Fainan/Wadi Dana/Madaba.
After our breakfast we will start from Wadi Feinan you will visit the remains of the ancient capital of the Edomite kingdom. Feinan is a large area of copper mines. In ancient times these mines were among the largest in the world. You will also visit the ruins of the Roman water system and two early Christian churches. This is will be the last destination to visit by Camels, from here the Camels will go back and we will continue with our tour guide the rest of the tour, if you are interested in hiking then we will do Wadi Dana Natural Reserve (7 hours easy walk): the reserve is a system of wadies and mountains that extends from the upper edge of the Rift Valley down to the desert lowlands of Wadi Araba. Dana is truly a world of natural treasures, where we going to meet some Bedouins and have tea at their tents, and will keep walking to Dana Old Village, from there our mini bus will meet up with you to transfer you to Madaba, check in at Mariam Hotel, dinner and overnight.

9th day: Madaba mosaic/Mount Nebo/Amman.
This day will be classic tour by our minibus which will be to Mosaic of Madaba where you can see the famous mosaic map of Jerusalem and the Holy Land. The next stop will be Mount Nebo, where you will overlook the Promised Land. Just like Moses once did after travelling through the desert for forty years. And you will visit the remains of a church dating back to the sixth century. Evening transfer to Amman, check in at Petunia Hotel (3*) deluxe, dinner and overnight.

10th day: Free time / Airport.
Depend of your flight, we can do shopping in Old Souq (Arabic Market) in Amman to visit the city centre of Jordan's capital – Amman – and transfer you to the airport.
Prices included:
· Meets and assist at the airport
· Hotel accommodation on F/B bases
· Camels
· Tour Guides
· All meals
· Entrance Fees
· Jeeps to campaigned the tour
· Soft Drinks ( Mineral water, Bedouin tea, coffee)
· All transfers by deluxe minibus
· Camping equipments
· Shower availability
Prices not included:
Private insurance, tips.

Recommended time: All over the year.
Camping and hotel accommodation:
For campsites we have all suppliers and booking at hotels you can have budget hotels, and from 1* to 5* hotels, it is all depend of your budget.
Food and Drinks : from our arrangements all meals : we will provide lightweight provisions ( dehydrated foods) as well as fresh foods, also alcoholic drinks if clients wants, vegetables, cans, Bedouin tea, and mineral water, dinner will be huge selections.
Clothing and Equipment :
Cold seasons : from October to April: Jordan can be cold at night, especially in the north or in the mountains so have some warm and preferably windproof clothes.
Hot seasons : lightweight clothing, and vests are fine up in the mountains, weather permitting, though on a hot day you may suffer sunburn and lose precious body moisture quickly and without noticing, leading to speedy dehydration. Whatever you wear, remember to dress with respect for local traditions if you want to be welcomed into Bedouin camps or the houses of local people. Sneakers or modern lightweight trekking boots are all that's needed for footwear, always have your own small first aid kit with you.