Special offer, Climbing in Jordan, 8 days, 7 nights
1st day: Airport- Amman
Meets and assist at Queen Alia Airport, Visa formalities, transfer to Amman, check in at your hotel, dinner and overnight.
2nd day: Amman – Moujip Natural Reserve – Dana.
After breakfast travel down to Moujip Natural Reserve, climb Moujion Canyon from Dead Sea side, the Grand Canyon, the canyon of God as Lawrence mentioned in his seven pillars of wisdom, easy climb 2 grades, 7 hours, evening travel via King's high check in luxury Dana Hotel, dinner and overnight.
3rd day: Climbing in Dana Cliffs.
In Dana, climbing trails are open and field guides will lead tours in the early morning. the spectacular sandstone cliffs of Dana Dana Nature Reserve is one of the most exhilarating reserves, it extends from the top mountains to the desert of Wadi Araba, it is a world of natural treasures, in addition to its mammals and reptiles which among them are the ibex, mountain gazelle, badger, wolf, hyena, jackal, and the unknown Blandford's fox, it is also important for its birdlife having a wide variety of tree cover. We will stay this night at one of the Dana Cliffs tops, camping, dinner and overnight.
4th day: Dana – Petra
in the morning, Jeeps will drive through the best area of Jordan – off-road (Wadi Namala) to Petra, it will take 6 hours. Afternoon free time, at hotel in Petra, dinner and overnight.
5th day: Climbing to the top of the Deir
in the morning our tour guide will escort you on the top of the Deir monument! This used to be a favorite activity. 4 grade, easy climb, no equipments need, 8 hours, evening back to your hotel and overnight.
6th day: Petra – Wadi Rum
in the morning travel from Petra to Wadi Rum we arrive at 8:00a.m and we will head to the highest mountain in Jordan, Um Addami, easy climb 7 hours climbs of up to 1750m high in Wadi Rum or easy climb through the colorful hills and canyons Um Addami, we will camp that night in the middle of the desert at Bedouin Tent.
7th day: Free day in Red Sea
Enjoy the coral, and swims in Aqaba, evening drive to Amman
8th day: Amman – Airport
Departure day.

Packages included:
All climb equipment, suppliers, professional climber guides/
Robes
Jeeps
Campsites
All meals (breakfast, Lunches, Dinner)
Entrance Fees
Health boxes
Doctor
All kind of medicines
Soft drinks (mineral water, tea, coffee..ect.)
Prices not included:
Personal expenses, tips, travel insurance
For more information please contact us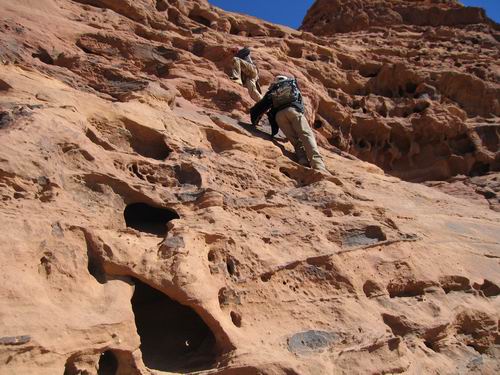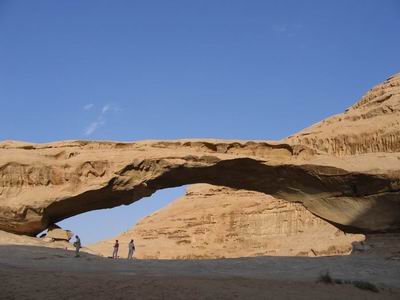 Wadi Rum's grandeur in southern Jordan became famous because of the movie "Lawrence of Arabia". Prior to exploration beginning in 1984 to assess its potential for Rock Climbing, the region and its mountains were largely only familiar to the local Bedouin. There are now some 300 routes of all grades on sandstone of variable quality. Original pioneers adopted a policy of using a minimum of fixed gear for protection to preserve the spirit of adventure.



Climb Program:
We will climb the most famous climb routes in Jordan such as: Mumkin, Flight of Fancy, Mad Frogs and Englishmen, Inferno, Walk Like an Egyptian, Troubadour, Wall of Lace, Live and Let Die, Gold Finger, Inshallah. Several of these climbs can link with the longer climbs shown at the top of the page.
1st day: Meets and assist at Airport, Visa formalities, transfer to Petra, check in at Hotel, dinner and overnight.
2nd – 3rd day: Visit the Petra sited. And climb to Monastery, then back and drive to Wadi Rum, Drive by Jeep Safari to West-East Traverse of Jebel Rum, ascent via Sabbagh's Route, descent via Hammad's Route, abseiling into Wadi Shelaali : this involves easy climbing (2/3) through marvelous scenery and with spectacular views across Wadi Rum. It really needs about eight hours, moving pretty fast, it will take two days for it and sleep on the summit this is a great experience and a wonderful introduction to Wadi Rum. On the third day we will use robes, to climb down to sunset campsite, dinner and overnight.
4th day: after breakfast we drive by Jeeps to Burdah Mount: in the scramble on good rock, well marked with cairns which leads up to burdah bridge Difficulty: 5.4, climb: 6 hours, overnight under the mountain.
5th day: in the early morning drive to climb Jebel um Ejil. The Beauty (5+/6a/5/5/5+): a very popular climb, in the famous Rakebat Canyon. Bolts and abseil points are already in place. We use robes not most of the time, evening we drive to Jebel Umm Addami prepare to climb the next day, campsite, dinner and overnight.
6th day: we climb Umm Addami the highest mountain in Jordan 1870 M, easy climb, 6 hours both ways, back to the campsite, dinner and overnight.
7th day: an easy day we hike on Jebel Nassrani, Hikers' Road: with good rock and a fantastic view, suitable for good medium grade climbers. We camp in Khaza'ali campsite.
8th day: Jebel Burdah East Face, Orange Sunshine: there are a number of variants to this original route, with names like "Tangerine Dream" or "Marmalade Skies". Good rock, nothing over grade 5.
9th day: Active day we will climb Jebel Barrah East Face, Ocean Slabs: a popular climb, on the cliff opposite to Merlin's Wand at the northern entrance to the Barrah Canyon. The climb presents no particular difficulties, but the situation is impressive and is very exposed. There are three variants (Le Truand, La Brute and Le Bon) which, as their names suggest, are considerably more difficult (maximum of grade 6B for the first two, 6A for the third). We stay tonight at Um Sabata Climb site. We will have Bedouin BBQ with the Bedouins
10th day: the last day of climbing so we climb Jebel Sweibit, The Hadj: a great climb, mostly grades 4 and 5 with a stretch at 5+. This climb was featured in the BBC documentary and the subsequent video "The Face" which has contributed considerably to its popularity. We can open new routes on this day.
11th day: After Breakfast drive to Amman, Free day, city tour, and drive to Airport.
Packages included:
All climb equipment, suppliers, professional climber guides/
Robes
Jeeps
Campsites
All meals (breakfast, Lunches, Dinner)
Entrance Fees
Health boxes
Doctor
All kind of medicines
Soft drinks (mineral water, tea, coffee..ect.)
Prices not included:
Personal expenses, tips, travel insurance