Day 1: Amman Airport – Amman.
Welcome to Jordan! Upon arrival at any time, you will be met and assisted by our representatives there in Amman airport. After that we will be transferred to our hotel in Amman for dinner and to stay overnight.
Day 2: Amman /Ajlun Castle / Jerash / Amman
After breakfast, transfer to Rabad Castle (Ajlun castle) you will visit the Islamic military castle of Ajloun. The castle was used by the Islamic armies of Saladin to protect the region against the crusaders. And next destination will be Jerash You will visit Jerash, the Pompei of the East. You will enter Jerash through the monumental South Gate and find yourself wandering around in a Roman city. You will walk in the Oval Plaza surrounded by colonnades, visit the Roman theatre and Byzantine churches with mosaic-covered floors. Enjoy a stroll along Jerash' main road the Cardo and pass by the Nymphaeum. Jerash has been covered by sand for centuries, the main reason why it is still so well-preserved. You may experience the marvellous acoustics of the theatre, the stage of the Jerash music festival which takes place every year. And see for yourself how the Romans built the earthquake-proof columns of the colonnaded streets. Evening back to Amman, enjoy the night highlights of the capital of Jordan, dinner at your hotel or at nice restaurant, overnight.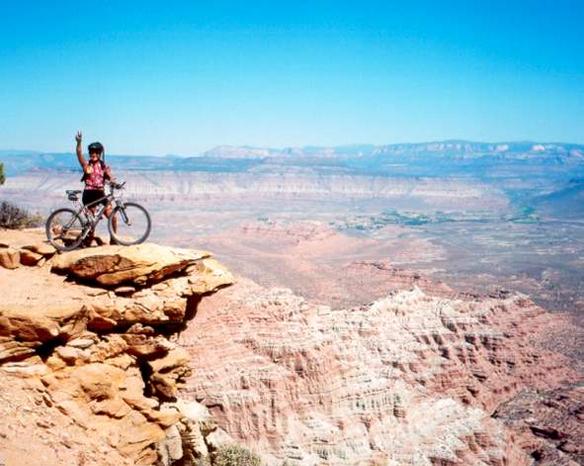 Day 3: Amman / Desert Castle / Amman
This morning we travel east from Amman into the Jordanian Desert. Here we see some of the Desert Palaces built by the Omayyed Caliphs in the 8th century AD. Of particular interest are Qasar Amra with its unique frescoes of hunting scenes and dancing girls. Qasar Azraq, built entirely of black basalt, was used as a base by Lawrence of Arabia in his later campaigns against the Turks. ( When you get out of the city you will enjoy the Bicycling to Deser Castel ). back to Amman. overnight
Day 4: Amman / Madaba / Mt. Nebo / Kerak
After breakfast in our hotel, we will move ahead to Madaba to act a visit to the Mosaic Christian Church and Mt. Nebo. There, our cycling tour starts to cycle to Kerak; we visit Kerak Castle and have dinner and stay overnight in a hotel OR a camp. Meanwhile, we will find the best place for lunch time.
Day 5: Kerak / Dana N.R / Shawbek / The Little Petra
After breakfast, we will act cycling sport for sometime in Kerak in a very good place for such sport and after that we will go, cycling, to Dana Nature Reserve through Tafila. In Dana, we will, on our bicycles, pass by Dana Village and Shawbek until we reach The Little Petra, which is very near to Petra – the site. We will visit there and then driver for 15 minutes to our hotel in Petra.
Day 6: Petra
In the morning a local guide will escort you into Petra and show you the highlights of the Nabatean city. You will enter the city through the Siq and be rewarded with the most astonishing and dramatic monument in Jordan: the Treasury. You will also visit the theatre, the tombs and façades and the colonnaded street. You will have lunch inside Petra and climb the stairs to the Monastery and admire the splendid view over the Wadi Araba. Evening back to your hotel, dinner and overnight.
Please Note: The local guide in Petra is not included and if you want private tour guide we will add 50JOD.
Day 7: Petra / Wadi Rum
After breakfast, we will move to someplace near the city of Wadi Musa by car to act Cycling sport for two hours. Then, our cycling tour ends up because we are moving to Wadi Rum where one cannot ride a bike. In the great Valley of Wadi Rum, we will act a six-hour 4 X 4 JEEP tour into The Marvelous Jordanian Desert with its fascinating sand dunes. We will have dinner & stay there in Wadi Rum in a Bedouin camp. Meanwhile, we will find the best place for lunch time. Option camel ride..
Day 8: Wadi Rum / Aqaba
After breakfast, we will act cycling sport for sometime to Aqaba may be one hour then transfer by car to Aqaba, free afternoon in Aqaba ( water activities (
Day 9: Aqaba / Wadi Araba / Wadi AL- Hasa / Dead Sea
In the morning travel via Wadi Araba, the costal between Jordan an Israel, where peace signed in 1995, and will arrive Wadi Al-Hasa ( From the main street to Wadi Al- Hasa 20 Minutes cycling ). enjoy swimming in the water, and Driving on water by Jeep car, we will have our lunch inside the wadi then drive to Dead Sea the lowest point on earth, and will have free time for swimming float, mud, overnight in Amman or Madaba.
Day 10: Departure from Amman or Madaba
After breakfast Transfer to Queen Alia International Airport for departure.