Jerash
<![if !vml]>
<![endif]>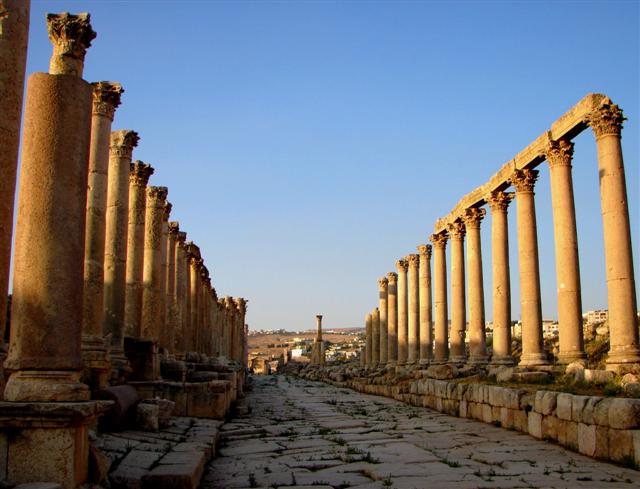 Lying some 50 kilometers north of Amman (30 miles) Jerash is Jordan's second most popular archaeological site after Petra. One of the cities of the Decapolis, its Roman name was Gerasa, it is the best example in the Middle East of a Roman provincial city, and it is remarkably well preserved. There is still much to be discovered at Jerash, the archaeological work continues there.
The north-south street, the Cardo, is lined with Corinthian capitals, which are much used to Jerash. The theatre is also in a good state of preservation and is used for the annual Jerash Festival in July and August. But the most remarkable monument in Jerash is the Oval Plaza, which is unique.

The temples of Zeus and of Artemis are also much visited. It is possible to insert a knife between the blocks of the temple of Artemis and see the knife swaying as the column is pushed by the wind.

In the year 129AD the Emperor Hadrian visited Jerash and planned a great expansion of the city. The great gate named after him was built at this time, but the planned expansion never took place, and today the gate is half a mile away from the other building.

Jerash was partially destroyed by an earthquake in 747 and abandoned by its inhabitants for a thousand years. Even at the beginning of the twentieth century, it was inhabited only by the peasants who sowed their crops between the columns.
A walk through Jerash is a journey in time. You can imagine yourself being a Roman commander entering in your chariot riding over the paved stone, an actor staging a play in the amphitheatre, or a priest leading a procession up the stairs of the temple of Artemis. Jordan, nature's best when thinking of Jordan, most of us associate it with the desert. In reality however, Jordan has a very rich natural diversity. Ranging from pinewood forests in the north, to desert areas in the east and south, wetland oases in the east, to the Dead Sea and the coral reefs of the Red Sea. Jordan is home to more than 75 different species of animals, nearly 400 species of birds, more than 70 species of reptiles and nearly 2.500 species of plants. During the last decades Jordan has invested a lot in preserving the natural diversity by creating wildlife reserves. During your trip you will have ample opportunity to enjoy the Jordanian nature. The Dead Sea is the lowest spot on earth. Its leading attraction is the super salty water, of which many people say it has healing powers. The biblical cities of Sodom and Gomorrah, where Lot's wife was turned into a pillar of salt, are believed to have been located close to the Dead Sea. When traveling on the southwards winding King's Highway, you pass through very attractive landscapes.